At Rosarito Inn Condo Hotel you can enjoy the convenience of a Rosarito hotel, with the comfort and amenities of a 1-4 Bedroom Condominiums. Your friends and family will stay together in the comfort of your ocean front hotel suite with all the comforts of home and 24 hour security and spectacular ocean views..
Oceana Casa del Mar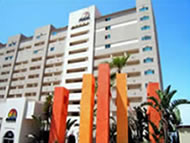 Oceana Towers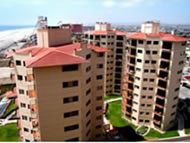 see more [+]
Oceana Plaza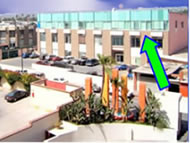 see more [+]
Amenities
Rosarito Inn Hotel Suites offers amenities found only in the best hotels. 24 hour security, gated entrance, all major appliances in fully equipped kitchen, cable television, in room safes, washer/dryer, high speed internet, fitness center, our own Oceana Grill and Cafe with room service, business center, bilingual staff, handicap accessible, swimming pools, jacuzzi, children's wading pool, family friendly and spectacular ocean views from your suite.
Location
When looking for a hotel in Rosarito, consider the conveniently located Rosarito Inn . We are on the beach in the middle of the tourist area. We are next to Papas & Beer, and only a couple of blocks from Festival Plaza and the Rosarito Beach Hotel.. Our office is in Oceana Plaza and you will find great shopping adventures all around, as well as cuisine from all over the world. Our hotel staff at Rosarito Inn will guide you to convenient access to all Rosarito has to offer..
Convenience
Rosarito Inn Hotel Suites has the convenience of any hotel in Rosarito, but with amenities that set us apart and gets us voted the best hotel in Rosarito by Baja Breeze online magazine. At Rosarito Inn, we have our own fleet of transportation services and you can arrange for airport pickup and dropoff, shopping excursions, tours to Ensenada, the Guadalupe Valley wine country, Puerto Nuevo Lobster Village and if you are here for work, to job sites.